Functionality and style of Stolbar designs
STOLBAR is proud to have gained over 30 years of experience. Our projects are distinctively functional, unique in style and attractive in design. We specialize in manufacturing classic furniture from solid wood and natural veneer obtained from domestic and exotic trees.
Our projects also include modern-style forms for which we use modified veneers, metal, glass, stone, high quality laminates, etc. Our furniture, including bar counters, is used as equipment in many catering establishments, hotels and guest houses (reception offices, guest rooms). By giving these places an original style, they create the desired atmosphere.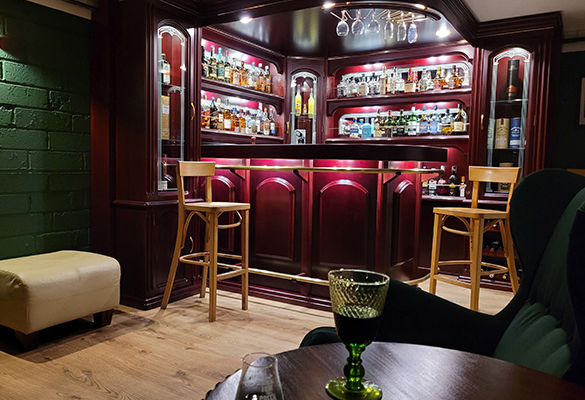 Experience developed over the years
All our products are custom-made to individual orders, according to our own designs or designs provided by customers.
The furniture is professionally made by experienced personnel using the highest quality materials and covered with a 24-month-long guarantee.
We also make exclusive furniture for residential interiors (home bars, kitchens, bedrooms etc.).
STOLBAR Ryszard Opyrchał
ul. Brodzka 8
34-130 Kalwaria Zebrzydowska
+48 660 486 876 (for english)
NIP: 5511123083
Regon: 070146120
Opening hours:
Mon – Fri 8:00 – 18:00
Saturday 8:00 – 14:00